The "SILVERADO TRAIL HOUSE"
is legally permitted and licensed by the City of Napa
VACATION RENTAL PERMIT: VR16-0019
NAPA CITY BUSINESS LICENSE: 36250
Important background regarding vacation rental homes in Napa:
40 whole-home vacation rental homes are legally permitted and licensed by the city of Napa. Legally permitted vacation rental homes typically list their Vacation Rental Permit number for potential renters to see. (Outside the city limits of Napa, vacation rental homes are NOT legally permitted.) What does 'whole-house' mean? It means you get to enjoy the entire property to yourself without on-site hosts impacting your privacy.
These 40 licensed vacation rental homes participate in annual safety inspections conducted by the city of Napa Fire Department and abide by a comprehensive set of guidelines developed in collaboration with the city, resulting in a safer, superior lodging experience for guests.
The city and county of Napa works to identify and close illegal vacation rentals. Therefore, if you choose to book a vacation rental in Napa other than ours, please ask for a permit number and, if in doubt, check the permit number with the city of Napa Business Department. This will ensure that your reservation will be honored and available when you arrive.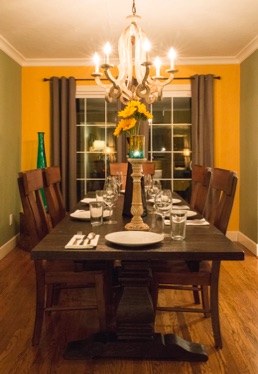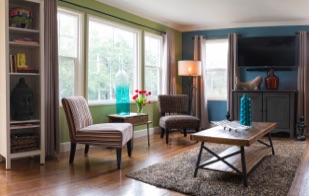 The Silverado Trail Vacation House is a 2 bedroom 1.5 bath home, which has been completely updated and sleeps up to six and features a spa, large outdoor sky deck for dining, a custom outdoor entertainment space with wet bar, BBQ, indoor dining for eight, all new furnishings, updated rooms and new everything!
Location: We're a liesurely, 10-minute walk to historic downtown Napa, the famous Oxbow Market, four-star dining, wine tasting, theater, nightlife, live music, cafés, shopping and more.
The city of Napa is the epicenter of the Napa Valley - bustling with activities day and night and the Silverado Trail Vacation House is on the famous Silverado Trail - your gateway to the Napa Valley.
This is our second vacation rental home and our first home is an award-winning vacation rental home also located in Napa.
We're founding members of the Napa Vacation Rental Owners Association formed in 2007.
Whole-House: The Silverado Trail Vacation House is one of the 40 legally permitted, whole-house, vacation rentals in Napa and we are proud to operate in collaboration with the City of Napa. What does 'whole-house' mean? It means you get to enjoy the entire property to yourself without on-site hosts impacting your privacy.
Only 40 of these whole-house vacation rental homes are legally permitted to operate in the city or county. Be sure to rent a legally permitted vacation rental home. (See more details at the bottom of this page.)
The house is located on the famous Silverado Trail, one of the country's most scenic routes! It was the first permanent road built from Napa to Calistoga providing a significant trade route for hauling wheat, and fruit, the primary crops at that time, as well as travelers. The road would later be known as The Silverado Trail.
The Napa Valley encompasses some of the West Coast's most breathtaking landscapes, legendary restaurants and some 400 wineries making it one of the great wine growing regions of the world. On top of that, California's stunning coastline is less than an hour west and the fantastic city of San Francisco is one hour south. Wine tasting, Michelin-rated dining, rugged coastline, Napa Valley, San Francisco. There's no real high or low season - all year is a great time to visit Napa. Does it get better? It does...
We respond quickly to rental inquiries and keep our online calendars updated. This isn't a side hobby: We're serious about renting our house to you. We've each been in the service industry and know what it's like to provide excellent booking experiences, accommodations and follow-up.
We've created an oasis to enjoy. Our house isn't a showcase of breakable antiques, that's not our style. We're two young-at-heart artists who love making fun living spaces! We know if we enjoy living here, other people will too. Our vacation rental homes get better year after year, we love to stay in them when they're available and we address items needing updating, replacing or adjusting and we actively gather and implement suggestions from our guests.
While the original vintage 1940's home appears petite from the front, as you enter the property, it opens to new architectural elements and creative outdoor spaces which provide more spaces to enjoy. The home features beautiful hardwood floors, original photography, artful touches and thoughtful lighting both in and out that will tickle your senses and refresh your soul. See more photos, find out more details and be sure to read our guest's reviews in the following pages.
Outside, the home boasts a custom outdoor entertainment space with a half bathroom, private spa area, wet bar, comfy seating area, propane BBQ, plants, big blankets, and thoughtful lighting. Above the entertainment area, on the second floor, we've located what we call the sky deck. Here, we've placed an outdoor dining/seating area with unobstructed views of the sky.
Inside the house features a living room with a 50" flat screen TV, surround sound, DVDs, books and board games. The bedrooms have queen-sized beds, closets, dressers, mirrors and luxurious 400 thread count linens. You'll find a dining room that seats up to eight, a wholly stocked gourmet kitchen including a dining island with stools, gas oven and convection range, blender, dishwasher, granite countertops, professional-quality cookware, mixing bowls, ice-maker, microwave, toaster, coffee maker, spices, plates, glasses and utensils.
Toss in free shampoo, conditioner, dish soap, paper towels, toilet paper, hair dryer, big fluffy towels a washer and dryer and you're set!
Bedrooms and living room have ceiling fans, WIFI coverage and the house features on-demand filtered water. We also provide off-street parking for four cars. The house also has air-conditioning as well.
We welcome all travelers!
One world, one vacation rental.
Room for everyone.
HomeAway®
4146987
Listed Since October 2016