The living room features leather couches, a 50" flat panel TV, a queen sofa bed, surround sound, overhead fan, original artwork, board games and hardwood floors.
The gourmet kitchen includes a refrigerator with ice maker, convection oven and gas stove, microwave, dishwasher, filtered water, toaster, mixer, coffee maker and grinder, tea pot, blender, wine and cocktail glasses, dishes, complete profssional cookware set, cooking and dining utensils and much more.
The open floor plan allows for relaxing cooking and entertaining.
Each of the two bedrooms has a queen bed, original artwork, hardwood flooring, overhead fan, mirror, dresser, night stand and closet. Extra bedding, blankets, towels and A/C, of course.
The outdoor Entertianment Space:
Featureing a wet bar, half-bath, comfy lounge seating, blankets and custom design elements.
Enjoy the outdoors while comfortably inside.
It's our interpretation of Napa Style made especially for you in mind.
The modern full bathroom in the house offers a pedestal sink, a walk-in shower/tub, shampoo, conditioner, body soap, hair dryers, lots of linens, make-up towels, shelves and plenty of space to hang your towels and put your stuff.
For added convenience, a rustic-inspired half bath is located between the spa and wet bar in the outdoor Entertainment Space.
If you're having fun outside and don't want to leave the party or the full bath is occupied, we've got you covered!
The dining room opens to the kitchen for easy meal preparation and socializing.
A large dining table seats six to eight guests comfortably.
French doors lead to the Sky Deck, the Entertainment Space and spa areas.
An open floor plan seamlessly merges the dining area with the living room. Oak hardwood floors run throughout the house.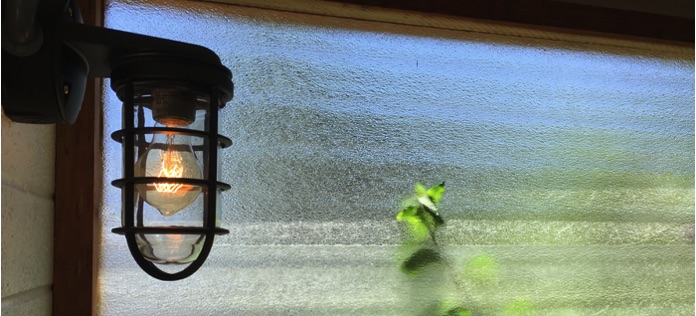 Silverado Trail House: exterior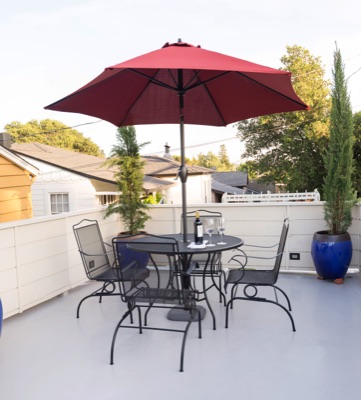 The Sky Deck offers a splendid view of the Silverado Trail and the stars.
It's also a luxurious, private dining venue for enjoying gourmet meals, suberb wines, family and friends.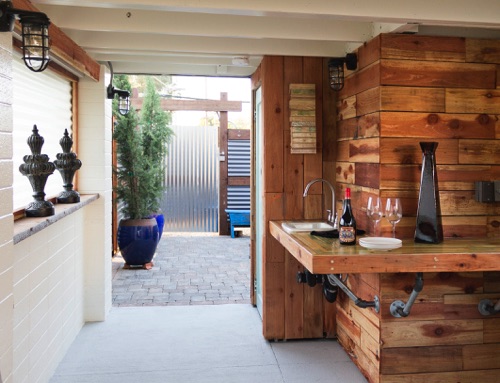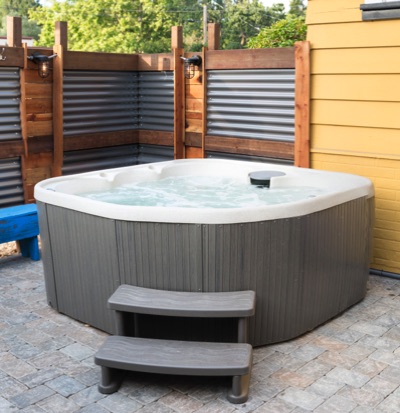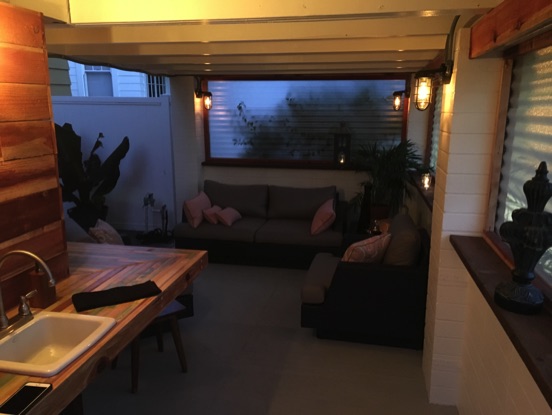 At the end of a long day of wine tasting, you deserve to relax and soak in the spa under the stars in our large private jacuzzi in its own private area adjacent to the Entertainment Space and bathroom.
A weber BBQ with large cooking light completes the gourmet offerings.
Hang in the spa... pour some wine at the wet bar... check on the roasting vegatables... What more can you ask for?
Left: The view from the spa, past the BBQ, past the bathroom and into the Entertainment Space with wet bar and half bathroom.